The forms below may be downloaded and completed at home, but please bring with you to register with Nancy.
Youth Registration: Youth Registration Form
Calendar:
There are additional forms (waivers) required by the Diocese for catechists/teachers and students, for in-person instruction.  Please find the ones that apply to you or your child.  Read, understand and sign the waiver and return it along with the appropriate registrations forms.  You can find the forms here.
---
Youth Group Mass (9-12 grades) will participate at
Masses once a month. 
Please let us know if you would like to participate.
Ministries are Lector, Commentator, Ushers and Gift Bearers.
(Be at Mass 15 minutes early!)
If you are serving at Mass, GIRLS- please have covered shoulders,
no shorts, no low-cut tops, or short skirts!
---
St. William's Youth Group –
"Catholics in Action"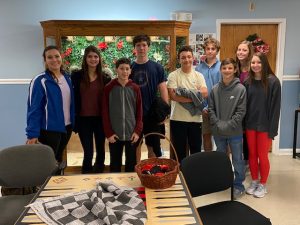 Tuesday , December 3, members of our Youth Group "Light the Nights" spent some time with residents of  Magnolia Manor (nursing home across the street from St. William).  The Youth helped residents outside to see the lights, listen to music, drink cocoa and have some cookies, and enjoyed the company of the residents.  
October 14 – Beach Night
we had a blast at the Coast Guard Beach
B
each Picnic!