November 1, which is All Saints Day, falls this year on a Sunday.  The Thirtieth Sunday in Ordinary Time.  This year we will celebrated the 10:30am All Saints Day Mass outside for parishioners and their families.  Mass was celebrated just outside the main entrance to the church, with the altar centered on the concrete pad.  Everyone was encouraged to bring a chair.   They could remain close to their cars or come forward, closer to the Altar area if they were comfortable.   Celebrating Mass outside offered the opportunity to alleviate many concerns some are having regarding attending Mass in person.  We had a wonderful turnout for the Mass.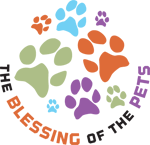 and Outdoor Mass Sunday, October 4, 10:30am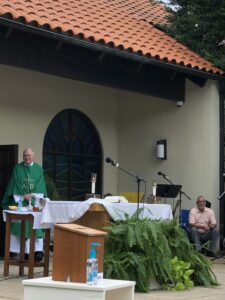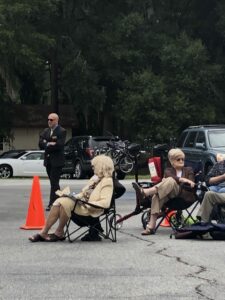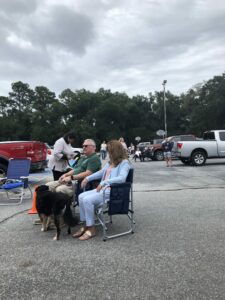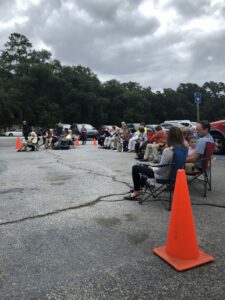 ---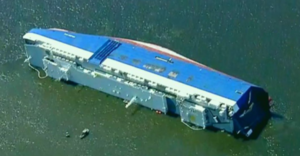 Are you wondering what is going on with the Golden Ray in St. Simons Sound?
LCDR Daniel Donovan, USCGR, is the Liaison Officer for the St. Simons Response.  He has been attending St. William while he has been working on this project.  He has graciously offered Monsignor Schreck the opportunity for our parishioners to learn more about the Golden Ray.  LCDR Donovan along with, CDR Efren A. Lopez, USCGR: Federal On-Scene Coordinator (FOSC), and Chris Graff: Responsible Party Incident Commander (RPIC), all members of the Unified Command, will  provide a little background on the response, "where we are now, and what the end goal is for St Simons Sound." After the presentation, the floor will be opened up for discussion and questions.   The presentation is Wednesday, October 7, at 6pm, in the parish hall.
Members of the Unified Command:
CDR Efren A. Lopez, USCGR: Federal On-Scene Coordinator (FOSC)
CDR Lopez has been the Senior Reserve Officer for Sector Charleston since October 2019 and is currently assigned to the Saint Simon Sound Incident (MV Golden Ray) as the Incident Commander/Federal On-Scene Coordinator.  CDR Lopez is a retired Lieutenant from the Miami-Dade Police Department after 30 years, where he served in Economic Crimes, Homeland Security, Communication, Emergency Operation Center, Robbery, Professional Compliance, Narcotics, General Investigations Unit and Crime Suppression Team. He is a Certified Emergency Manager and a graduate of the Southern Police Institute – Command Officer Development Course. He has earned BA degrees in Accounting and Business Administration as well as an MPA.
Chris Graff: Responsible Party Incident Commander (RPIC)
Chris Graff joined Gallagher Marine Systems in August of 2012 after retiring from California Fish and Wildlife. Before retiring, his last position with California was Deputy Administrator for the Office of Spill Prevention and Response (OSPR) which empowered Chris with executive management responsibilities. Prior to the Deputy Administrator duties, Chris was the Law Enforcement Captain with statewide responsibility of Investigators and State on scene coordinators of spill response. Chris had responsibilities as the Lead State on Scene Coordinator for pollution response along with management duties for statewide response activity. As the Director of Response Services, Chris oversees all Response Services activities and supervises the Response Managers for the Gulf, West, and East Coasts.
LCDR Daniel Donovan, USCGR: Liaison Officer
LCDR Daniel Donovan is the Liaison Officer for the St Simons Response. He received his reserve commission in the United States Coast Guard in 2004. Prior to his commission in the USCG Reserves LCDR Donovan also served on active duty with the US Navy for three years as an Aviation Electronics Technician, and later in the US Navy Reserves as an Information Systems Specialist.  LCDR Donovan has a Master's degree in Emergency Management, is a qualified Master Exercise Planning Practitioner. In his civilian status he works for the US Coast Guard Headquarters in Washington DC as an Emergency Management Specialist.
(State On-scene Coordinator, John Maddox, is working remotely so his attendance is tentative).
Note:  We are still limited by the guidelines set by the Diocese of Savannah, seating is limited to 50 people.  Masks are preferred to attend the presentation.